Scott Blinn
CEO & Creative Director
A veteran of the video game industry with more 20 years of direct experience, Scott has a proven track record of making memorable experiences enjoyed by millions around the world.
His primary passions include game development, business leadership and mentoring, as well as photography of all kinds. He is also one of the original pioneers to use various agile development and management methodologies within the video game industry that are now in wide use today.
Scott has worked both as a key developer and executive at leading studios on award-winning products and franchises over the years such as; System Shock 2, Skylanders, Red Faction, Earth and Beyond, Darkwatch, and The Bourne Conspiracy to name a few. He was also the inventor and co-creator of two network distributed rendering systems used in games, film, and television, as well as a visual scripting system for Unity called uScript that is used as a core tool by many developers to bring their own games to life.

Michael Ryan
CTO & Lead Engineer
Mike is a pioneering industry veteran with more than 20 years of experience. He began his career when he joined Looking Glass Studios in Cambridge, Massachusetts. While there, he contributed as a designer on the award-winning
Thief: The Dark Project
and
Thief Gold
, as well as the highly-lauded
System Shock 2
in collaboration with Irrational Games.
He later had the opportunity to work alongside and learn from some of the industry's most talented developers at a number of successful game studios, including Arkane Studios, High Moon Studios, and Vicarious Visions among others. He has experience developing games for the PC, Xbox 360, Playstation 3, and mobile devices. In 2003, he co-founded Fat Frog Studios, an early developer of cell phone games.
During his career, Mike has filled the role of Level, Game, and Lead Designer, Artist, Modeler, Programmer, and Creative Director. He strives to develop titles with innovative gameplay, strong production-values, and very enjoyable user experiences.
Jesper Myrfors
Artist
Jesper graduated from Cornish College of the Arts with a BFA in illustration and is a two time winner of the GAMA award for graphic design and art direction.
He was the original art director for Magic: The Gathering and several of the game's initial expansions. Jesper has provided illustrations for many popular role-playing games and card games and also has several award-winning game designs to his credit, including the Magic expansion The Dark, The Hills Rise Wild, and Deadfellas.
Anthony Silva
Programmer
Anthony has spent more than 15 years building and designing many different types of software—from all kinds of games (console, facebook, mobile, and educational to name a few) to non-game projects such as flight display interfaces, photo management, and websites. He has a thirst for knowledge and tries to maintain a wide breadth of technical fluency by constantly reading up on (and at times, experimenting with) the latest available technologies, devices, processes, and tools. Anthony's game credits include ATV Offroad Fury 1 & 2, Star Wars: Racer Revenge, and Deadly Creatures among others.
Jennifer Levesque
Artist
Jennifer's lifelong passion for video games has driven her career over the last decade. She studied at New Hampshire Institute of Art, and balances her work between traditional and digital media.
Jennifer draws inspiration from Golden Age Illustration, retro and vintage fashion, graphic novels, and portraiture, and explores themes from speculative fiction as well as Surrealist and Romantic art. Her free time is spent divided among playing video games, reading, and listening to far too much Synthpop.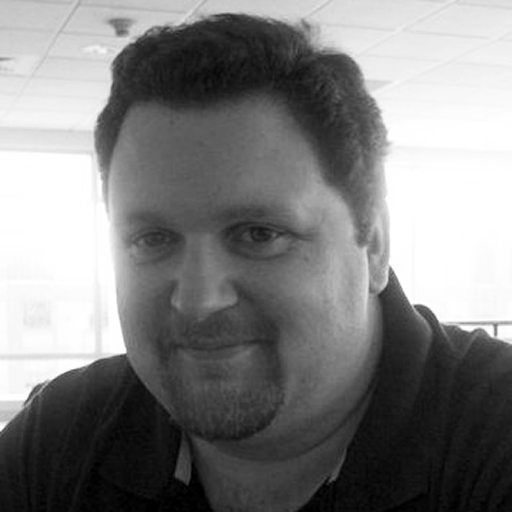 Raymond Fortier Jr.
Production Assistant & Tester
Ray finds our bugs and makes sure they get fixed. He is also a solutions-oriented technology expert with over 20 years professional experience in software and hardware installation, set-up and repair, and databases analysis for business applications with 15 years of experience in Unified Communications engineering, installation and support.
Geoff Mellon
Artist
Geoff Mellon is a Senior Character Artist with over 16 years of experience in the industry. Working on a range of projects that includes video games, TV, and independent films. Geoff's strongest passion above all is video games. He has worked with great developers from all over to create such titles as MX vs ATV, Tony Hawk Down Hill Jam, Guitar Heros, Band Hero, and Shroud of the Avatar just to name a few. Geoff has been an Art Director and Art Lead on many on the titles mentioned plus many more and has a long history of improving systems as well as pipeline flow for his team members.
Geoff is also highly skilled in Art Systems Designer and has helped implement back-end of character customization systems design, in game shader customization, and even FX system design. Geoff loves to collaborate with team members to create fast and efficient methodology to achieve beautiful results for any project he works on.
His first love in games though has always been characters. He has study character design, shape/form, and movement throughout his entire career. He loves to see new directions that they can be taken in and spreading that love to others in the industry over all disciplines. Whether its creatures or humans Geoff always jumps at the chance to explore all the different ways to bring them to life in the game for a more enjoyable experience for the player.
Shayne Hudson
Level Designer
Shayne is an industry veteran with a decade of development experience in art, technical art, and design. He started designing games back on the Commodore Amiga and eventually moved into 3D art and textures.
Having developed games on PC, Playstation, Xbox, and mobile platforms throughout his career, he has kept up with the latest technologies and methods for creating games. As an avid gamer himself of many genres, he is well suited to level and game design.
Collin Durgin
Quality Assurance
Collin became interested in programming after being an avid gamer for 8 years, Collin decided to sit down and teach himself the basics of languages such as Java, C#, and Python.
David Bax
Programmer & Designer
David began his career at Looking Glass Studios as a Quality Assurance tester. He transitioned into game design when he joined Irrational Games in 2000.
Throughout his career, David has worked with a variety of game studios on both the East and West Coasts. In 2010, he moved to Japan and joined the Japanese game industry, where he eventually transitioned from game design into programming.
Trapper McFerron
Programmer
Trapper loves making the tools and technologies which drive games. In his free time, he enjoys coding up graphics, physics, and hardware tech demos. Popular franchises he's worked on includes: Call of Duty, WWE, Deadly Creatures, MX vs ATV, Pixar's Cars, and the Wii uDraw tablet.
Ross Carr
Artist
Ross is currently in his final year as a 3D art student at MVC and plans on transferring to CSUF to finish his BFA. In addition to currently working as a 3D artist he is also using his skills in Maya, Mudbox, Zbrush and Photoshop to help/advise first and second year students in MVC's 3D art program.
Bryan Jones
Programmer
Bryan is a recent Animation and Graphic Game Programming graduate from NHTI with a passion for video games. He has experience with a variety of different programming languages such as C++ and C#, as well as experience with programs such as Photoshop and 3ds Max.
Christopher Salcido
Programmer
Christopher is an avid computer programmer with a desire to make video games and music. Driven to do both since a young age he's taught himself computer programming and audio engineering before starting college at sixteen years old. He graduated with two associates degrees and certificates from RCC and a bachelor's degree in music composition from CBU. Since then he's worked as a full time web applications programmer and continues to work on various side projects in his spare time which includes programming his own game engines, writing and recording music, and creating and editing videos in Blender.
Eryk Fairchild
Musical Composer & Level Designer
Hailing from a family of artists, Eryk is an accomplished and multi-talented musician across multiple instruments, recently delving into the digital realm.
From writing, recording, and teaching to touring with multiple bands, Eryk has been a part of the music scene for most of his life. He was also the sound and music engineer for Chasma, an early cellphone developer.
Isadore Nieves
Audio Designer
Isadore (otherwise known as Isy) is a graduate of the Audio Engineering program from the Musicians Institute in Hollywood, Ca. There he became a certified audio engineer, as well as having gained multiple certifications in the use of ProTool and Logic Pro X. He specializes in Audio Post Production, having done podcast recording/editing , audio book editing, as well as sound FX editing and Sound Design with companies such as Greyborn and Smart Post Sound.
Becca Wallace
UI Artist
Becca is a Senior UI Artist and has worked in the games industry for 9 years now with a background in Graphic Design. She has experience creating UI across multiple platforms to enhance game experience for the user without encumbering gameplay. She enjoys creating new and innovative ways in which the player can interact with the game. Becca enjoys coming up with styles and animation for menus and HUD that will help further the fiction of a game.
Becca has a great passion for video games and is an avid gamer herself. She has worked on titles such as Call of Duty, Doom, Halo: The Master Chief Collection, Batman: Arkham Origins Blackgate, and Spec Ops: The Line just to name a few. She has worked with great developers over her career and enjoys collaborating with all disciplines to make great gameplay experiences for all players.
Tiffany Witcher
Voice Actor
Tiffany is an aspiring voice actress in the indie game community. She has worked on various indie games to gain more experience. With a strong theater background since high school which she uses to achieve her dream of becoming a videogame voice actor. She enjoys getting into character especially for villain roles.
Our team has more than 125 years of combined experience working in top leadership and creative roles within the video game industry at leading game studios and publishers such as:
Below is a sample of some of the products we've worked on in the past: